Dean Cain
Dean Cain has built a successful career as an actor, a director, a writer, and a filmmaker. His most well-known roles are Clark Kent/Superman and the host of Ripley's Believe It or Not! Before Dean Cain entered show business, he was interested most in the world of athletics. He used to be a safety on the Princeton football team. In 1987, he even introduced a national record for the biggest number of interceptions (12) in just one season of ten games. Cain was a college teammate of Jason Garrett, who is now the head coach of Dallas Cowboys. After Cain signed with the Buffalo Bills, he, unfortunately, had a knee injury, which ended his career in sports.
Denzel Washington
Denzel Washington is universally viewed as one of the most talented actors. Emotional and compelling, his performances can hardly be matched in brilliance on camera. Washington has starred in many sports movies, in which his sports background probably came in handy. For two years, the future actor played basketball at Fordham. His skills in this sport were tested during a very passionate scene from He Got Game, in which he played with an NBA star Ray Allen. In this scene where they played 1-on-1, Washington supposedly scored on Allen, who ultimately would become a Hall of Famer.
Tony Danza
Danza started to appear on screen since the 1970s. His fame came from the roles on Who's the Boss, Taxi, and Angels in the Outfield. Even though Danza looks like a character with a happy personality, on and off-screen alike, his sporting experience in real life was far from pleasant. Danza used to be a pro boxer. He achieved a 9-3 record before ending the sports career. Danza even earned a wrestling scholarship when he was in college. Also, the future actor was first spotted by a producer in a boxing gym, which eventually led to him working as an actor.
Jim Brown
Obviously, Brown has created an extensive filmography. He has appeared in 53 projects in total, but he's most known for his roles in Mars Attacks!, Any Given Sunday, The Running Man, etc. With his strong yet gentle presence, Jim Brown has been working as an actor since 1964. Before this, he had a totally different life. Brown used to be one of the most excellent running back in all the football history. He was very fast during his playing days, even though he was as big (or maybe sometimes bigger) than offensive and defensive linemen. He became a 9-time Pro Bowler, and got 3 MVP Awards, as well as 8 first team All-Pro denotations, and some other titles.
Gina Carano
This brunette of Italian descent is now an accomplished actress. She has performed in many big productions, such as Deadpool, American Gladiators, Fast & Furious 6, Haywire, and Madness in the Method. But before Gina became an actress, she was involved in something that you might find surprising. Carano was a pro MMA fighter for three years. She's got as many as 7 wins in 8 fights (this includes three knockouts as well as a victory by submission). Carano finished her sports career in 2009. Despite the fact that she hasn't come back to the octagon, many people still hope that she will reconsider.
Kurt Russell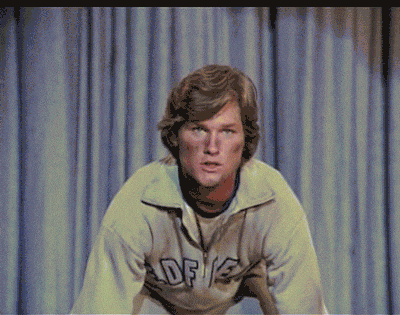 Kurt Russell, this incredibly popular actor, who has been a real starlet amongst the Hollywood elite for a really long time (his acting career is about 60 years long), also used to be a sportsman. His father was an actor, so it comes as no surprise that Russell' also connected to the realm of entertainment. However, there was a time when he was thinking about becoming a professional baseball player. Before he started his successful acting career, Russell used to play as an infielder for various organizations. Russell managed to get as high as AA, but then there was a collision that caused a terrible rotator cuff injury. Because of this, Kurt Russell had to leave his sports career, and then become an actor.
Tom Selleck
Selleck is a great actor who has been around for quite a while now. His most famous roles are the ones in Blue Bloods, Magnum P.I., and 3 Men and a Baby. What is more, we have no doubts that Selleck is a lucky owner of the best mustache in all Hollywood. And he used to be a star athlete, which is not shocking given his form – Selleck is a tall and robust man. He started his career in sports at L.A. Valley College, and then transferred to the University of Southern California, where the future actor played sparingly. Tom Selleck played in seven games in the 1965-66 season. He then failed to register a statistic.